The trendy Comfort Dehumidifier VAC-TTK-100 E with its high performance and convenient operation due to its successful design. It keeps spaces of up to 90 m² reliably dry with a daily dehumidification capacity of up to 30 litres. All you have to do is type your desired humidity level directly into the digital display. The integrated hygrostat implements the desired target setting completely automatically and also independently regulates the output of the compressor and two-stage fan. It is fully designed and manufactured by Trotec, Germany. This device is ideal for large apartments and offices, as well as in heated hobby rooms and basements.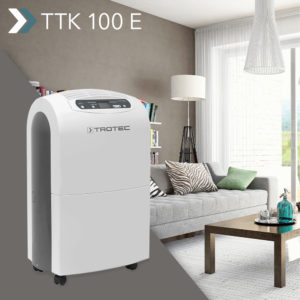 Another advantage of this device is that it helps you save energy efficiently. The hygrostat controls the relative humidity continuously. The device is self-activating when the specified humidity is exceeded, and the compressor automatically shuts off to save energy as soon as the desired humidity level reached. It also provides alternative modes of operation. This allows you to conveniently adjust the operating time of the dehumidifier to your routine or operate the device permanently unattended. The condensed water can be directly discharged through the hose using an integrated drainage connection.
The VAC-TTK-100 E possesses the comfortable features of its class. The filling level display signals to you, when the water container tank should be emptied. The overfill protection with automatic shut-off also ensures that nothing overflows. Its practical retractable handlebar and wheels make it convenient and easy to change the operating location. It is also suitable for allergy sufferers. The easily accessible air filter is easy to clean, filters animal hair, fluff, fuzz and dust, and prevents the spread of bacteria. It is also contains propane (R290) as an environmentally friendly refrigerating agent for dehumidification!
Applications of Comfort Dehumidifier, model no. VAC-TTK-100 E:
The Comfort Dehumidifier, model no. VAC-TTK-100 E is useful for the following applications:
It is designed for use in large apartments.

It is used to speed up the drying for wet clothes.

It used to maintain the humidity for offices.

It is commonly used to reduce humidity in the basement.

It is especially suitable for cellar or storage space to avoid mould formation.

It can be used in heated hobby rooms.

It can be used in small laboratories.

It can be used in laboratories.
Features of Comfort Dehumidifier, model no. VAC-TTK-100 E:
It has an electronic hygrostat control with a selection of real-value of humidity.

It has a comfort function for temperature-dependent automatic control of the air humidity for optimum room climate at all times.

It has a display of the temperature and relative humidity level.

It has a tank indicator when the tank is full.

It has selectable full automation or permanent operation.

It has an easily accessible and washable air filter.

It is consists of an energy-efficient rotary compressor.

It has an external condensation drain connection.

It provides you with alternative operating modes.

It has a laundry drying function.

It comes with a removable water container with a 4.3 liters capacity.
Specifications of Comfort Dehumidifier, model no. VAC-TTK-100 E for large apartments, offices, and basement.
The maximum dehumidification performance is up to 30 liters per day.

It has a 25 l/24h dehumidification capacity at 30 °C / 80 % RH.

The maximum air volume flow is 215 m³/h.

The recommended room size for dry keeping is 230 m³ or 90 m².

The operating temperature range is 5°C to 32°C.

The operating humidity range is 30%Rh to 80%Rh.

The dehumidifier can operate both 50Hz supply with 220-240Voltage.

The nominal current consumption is 2.4 A.

The power supply consumes 0.57 kW.

The recommended fusing is 10 A.

The electric connection plug is CEE 7/7 and the cable length is 1.5 meters.

It has a rotary piston compressor.

The CO2 equivalent of the compressor is 0.00037 t.

It has a water tank of up to 4.3 liters.

It has a sound level of 50 dB(A) at a distance of 1 meter.

It has a dimension of L 274 mm, W 390 mm, and H 612 mm.

The weight of this dehumidifier is 15.5 kg.

It has an automated defrost system in air circulation/electronic.

It has a non-stop dehumidification function.

It has an electronic hygrostat-controlled.

It has a radial fan.

It has a tank indicator when the tank is full and automatically shut off when the tank is full.

It has an easily cleanable and accessible air filter.

It has a timer function to switch on or off the device.

It has a special function for drying the laundry.

The display of the temperature and humidity is available.

It has a memory function.

The dehumidifier has a hose connection and allows the user for continuous drainage.

LCD display is available.

It has a carry/transport handles.

It has a protective bar for the control panel.

It has a plastic housing design.
We supply these Comfort Dehumidifier for homes, basement, and storage spaces across all African countries covering South Africa, Kenya, Nigeria, Tanzania, Rwanda, Djibouti, Morocco, Ghana, Ethiopia, Uganda, Morocco, Tunisia, Cameroon, Mauritius, Gabon, Seychelles, etc.