The flexible mobile air conditioner was designed specifically for the demanding requirement in the rental business and is characterized by an equally robust and transport-friendly split design, extreme maintenance -friendliness and reliability in cooling operation.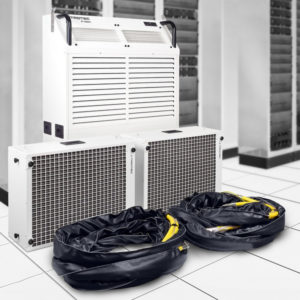 The commercial air-conditional is a powerful centrifugal blower with radial flow for large-volume air circulation that ensures homogeneous ventilation even of large rooms. Due to microprocessor-controlled hot gas defrost cycles as well as the pre selectable blower level and target temperature, the optimum room temperature for every cooling requirement can be achieved – depending on the operating conditions even to below 10 °C.
Applications of Commercial Air Conditioner, model no. VAC-PT-15000-S 
The commercial air conditioner, model no. VAC-PT-15000 is useful for following applications,
It is mainly used in the foodservice industry.

This device is used in factory plants and cultural sites.

It is used in laboratories, office space and shops.

It is used in marquees, temporary shelters.

It is used in storage and production facilities.

It is used in industrial environments or hotels.
Features of Commercial Air Conditioner model no. VAC–PT- 15000-S
The robust design of the Commercial Air Conditioner with a hardwearing panel made of galvanized and additionally power coated steel ensures a high resistance to climatic influences and aggressive surroundings.

Likewise the housing of the Commercial Air Conditioner was designed super slim so it can fit through every door and into every elevator. Owing to swivel castors with parking brake you can even save time during transportation.

The air conditioner Commercial Air Conditioner was manufactured in an especially slim design, allowing it to fit through any door and into every lift without any problems.

A recessed service compartment at the rear houses all device terminals and at the same time serves to store the connecting cable for transport purposes.

Installed with lightning speed due to refrigerant free connection lines with quick-lock coupling.

High-performance cooling technology for failure-free continuous operation.
Specifications of Commercial Air Conditioner, model no. VAC- PT-15000-S for commercial air conditioner in computer centers, SMT machineries & mobile applications
Operate with a single-phase 400V power supply and the recommended fuse rating is 32A.

Temperature changes possible through room thermostat.

Total weight is 189 kg with 415L x 1065W x 1500H unit dimensions.

This commercial air conditioner for Computer centers has a filter that is easily accessible and cleanable.

Fan will operate three different stages.

This Commercial air conditioner for SMT machineries has an automatic draining feature.

Ventilation and Automatic Error Diagnosis functions.

30 meters' length of the connection line external unit.

Sound level for up to 3m with three different stages with different decibels (Ex–51,56 and 65).

In summertime this mobile air conditioner will be an additional cooling option to fulfill the room temperature.

This commercial air conditioner for mobile applications has water is the cooling medium of this air conditioner.
We supply these commercial air conditioners for labs, computer center and mobile applications across all African countries covering South Africa, Kenya, Nigeria, Tanzania, Rwanda, Djibouti, Morocco, Ghana, Ethiopia, Uganda, Morocco, Tunisia, Cameroon, Mauritius, Gabon, Seychelles, etc.