The commercial dehumidifier is a portable type and can easily store anywhere. All components are reliably protected with special enclosure protects the electronic components of the dehumidifier from hazardous dust or moisture. It is fully designed and manufactured by Trotec, Germany. Due to its two practical stacking grooves on top, equally sized devices can be safely stacked to save space during transport and storage.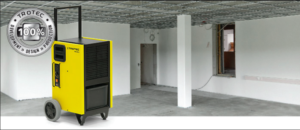 Another important feature it has a built-in operating hours counter which records the precise duration of work accurately and reliably, even during longer drying work. A dual counter for additional detection of power consumption is optionally available. With its ergonomic trolley design with a handle and large wheels, the professional dehumidifier is also easy to move over rough construction sites and steps. 
The commercial dehumidifier was built to reduce air humidity levels in record time or keeping large rooms effortlessly dry. With the clever combination of a strong 1.27 kW rotary piston compressor and a quality fan for air volumes of up to 1,000 m³/h, it does it perfectly. It can extract up to 70 liters of moisture from the ambient air per day. The professional dehumidifier's high-quality hot gas defrosting system ensures a high dehumidification capacity even at low temperatures.
Applications of Commercial Dehumidifier, model no. VAC-TTK-355 S
It is used in rough construction site.

Dehumidification in restoration and remediation job sites.

For dry keeping task in production areas and industries.

To maintain and control the humidity for homes or workshop.

Dehumidification in server rooms to protect electronics parts from corrosion.
Features of Commercial Dehumidifier, model no. VAC-TTK-355 S
It has maximum dust and moisture protection for all electrical components.

It is with high dehumidification performance even at the low temperature.

It allows for easy transport with the trolley design.

It has non-coloring solid rubber tires.

It has multi stackability – even better handling property.

It has an operating hours counter.

It is maintenance-friendly of all time.

It is very easy to maintain construction.
Specifications of Commercial Dehumidifier, model no. VAC-TTK-355 S for homes or workshop, construction areas, and restoration job sites
The operating principle of the commercial dehumidifier is a refrigerative dryer.

It has a steel coated housing design.

The maximum dehumidification performance is up to 70 liters per day.

The dehumidifier can operate both 50Hz supply with 230Voltage.

The nominal current consumption is 5.8A.

The power supply consumes 1.3kW only.

The operating temperature range is 5°C to 32°C.

The operating humidity range is 32%Rh to 100%Rh.

The volume of air in free blowing is a maximum of 1,000m3/hour.

It has an automatic defrost mode of hot gas.

It has a water tank of up to 6 liters.

It has a sound level of 54 dBA.

The dehumidifier has a hose connection and allows the user for continuous drainage.

It is with a pump performance of up to 50 m distance and a maximum pump height of 4 m

It comes with built-in hygrostat.

The dehumidifier has provision for the users to control the air volume.    
We supply these Commercial dehumidifiers for homes or workshops, constructions areas, and restoration job sites across all African countries covering South Africa, Kenya, Nigeria, Tanzania, Rwanda, Djibouti, Morocco, Ghana, Ethiopia, Uganda, Morocco, Tunisia, Cameroon, Mauritius, Gabon, Seychelles, etc.