The Industrial Desiccant Dehumidifier comes equipped with numerous functions and features guaranteeing reliable operation, easy handling and long lifetime with low maintenance effort.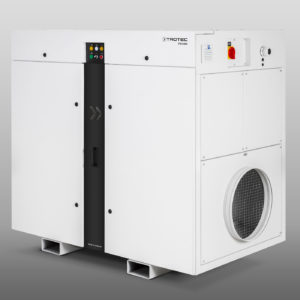 Industrial Desiccant Dehumidifier manufactured in Germany with high-quality standards, Device utilizes chemical attraction instead of condensation to remove water from the air. Because they do not use condensation, they are not limited by low dew point temperatures, and when used properly, they produce the lowest vapor pressure of any dehumidifier. The outer plate is powder-coated with galvanized sheet steel.
The high-performance fans of the Industrial Desiccant Dehumidifier are driven by energy-saving EC motors – their speed can be adjusted independently using a Duoventic regulator. Owing to this integrated Duoventic air volume regulation the industrial desiccant dehumidifier can be configured quickly and in line with demand without the need for conversions: Extremely dry air with a low airflow rate, larger volumes of dry air or maximum circulating air performance with a moderate ratio of dry air.
Applications of Industrial Desiccant Dehumidifier, model no VAC-TTR-6600 
The Industrial Desiccant Dehumidifier, model no VAC-TTR-6600 model no. VAC-PT-6500-S is useful for following applications,
Pre-dehumidification of conveying air for maintaining the pourability and flowability of hygroscopic products in storage, transport and dosing systems.

In the chemical and pharmaceutical industries, this device used for dehumidifying the air.

Frost protection in freezing tunnels and cold stores.

It is used to control the condensate formation in food, pharmaceutical, and chemical storage cold rooms.

Dry keeping of air and dew point control in cold stores.

Dry keeping of air in water processing facilities and pump stations.

Climate conditioning in ammunition depots or military equipment depots.

Dehumidification and dew point control in cleanrooms and drying rooms.
Features of Industrial Desiccant Dehumidifier, model no VAC-TTR-6600
External on/off terminals and hygrostat terminals.

Potential-free contacts for operation, fault and filter.

Configurable air direction reversal.

Flowmatic volumetric flow control.

Rotor rotation control (rotor and drive).

Over-temperature protection system with restart lock (regeneration air).

Operating temperature management (regeneration air).

G4 air filters in Z-line design with electronic monitoring and collective warning light.
Specifications of Industrial Desiccant Dehumidifier, VAC-TTR-6600 for industrial desiccant dehumidifier in the chemical industry, food industry & pharmaceutical industry
The dimension of the industrial desiccant dehumidifier for the food industry of (L x W x H) 1919 mm x 1110 mm x 1680mm.

Electric regeneration air heater comprising tubular heating elements, equipped with safety temperature limiters and differential pressure switch, controlled via semi-conductor relay(s).

Silica gel sorption rotor with internal purging sector for heat recovery and automatically adjusting rotor seal kit.

Integrated G4 air filters as Z-line filters, separately for process and regeneration air.

Terminals for hygrostat, 24 V DC Terminals for external switch-on/off, 24 V DC.

This industrial desiccant dehumidifier for the chemical industry has a weather protection equipment.

Humidity / temperature control (signal transducer kit 4–20 mA / 0–10 V, Parameterization).

Electronic hygrostat HG125 with two-line LC display.

Dew point sensor (-100 – +20 °C decibel / signal 4–20 mA).

This industrial desiccant dehumidifier for the pharmaceutical industry has a mirror-inverted module assembly – for reversed airflow direction.

Potential-free signal contacts for maintenance/filter change, fault, and operation ON / OFF.

Rotor drive system with brushless, variable-speed gear motor, toothed belt, toothed belt pulley and belt tensioner.

Integrated heat exchanger (cold/warm water) for dry air temperature control.

Boosted or additional fan for higher compression of dry air.

Protection and transport frame, stackable.
 We supply these Industrial Desiccant dehumidifiers for Chemical, Food Industry across all African countries covering South Africa, Kenya, Nigeria, Tanzania, Rwanda, Djibouti, Morocco, Ghana, Ethiopia, Uganda, Morocco, Tunisia, Cameroon, Mauritius, Gabon, Seychelles, etc.