The Commercial Air Conditioner is a split air conditioner for application in the rental business with refrigerant free connection lines to cool rooms that are up to 30 meters away. This is the first choice for all applicants demanding an economic and user-friendly solution for mobile temporary cooling.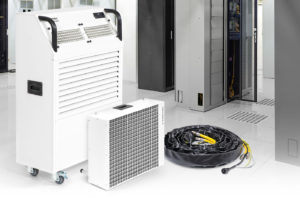 The advantage of this air conditioner can be easily transported and maneuvered in the smallest space – the commercial air conditioner fits through every door and into every lift. Due to its specially reinforced housing, the cooling unit with its optional crane lugs can also be easily transported by means of a crane. Two integrated bar handles additionally protect the front panel from impact damage while simultaneously allowing easier handling.
Applications of Commercial Air Conditioner, model no. VAC–PT-6500-S
The Commercial air conditioner, model no. VAC-PT-6500-S is useful for following applications
It is used in laboratories, office space and shops.

It is used in marquees, temporary shelters.

This device is used in factory plants and cultural sites.

It is used in storage and production facilities.

It is mainly used in the foodservice industry.

It is used in industrial environments or hotels.
Features of Commercial Air Conditioner model no. VAC–PT-6500-S
As an order option, the air conditioner can come equipped with crane lugs mounted on both sides to ensure maximum mobility.

To protect the device when you store it outdoors, a matching weather protection cover of robust PVC tarpaulin can be supplied as an accessory part.

The commercial air conditioner was manufactured in an especially slim design, allowing it to fit through any door and into every lift without any problems.

A recessed service compartment at the rear houses all device terminals and at the same time serves to store the connecting cable for transport purposes.

It is a powerful cooling technology for continuous operation.
Specifications of commercial air conditioner, model no. VAC-PT-6500-S for commercial air conditioner in computer centers, SMT machineries & mobile applications
This commercial air conditioner for SMT machineries has an automatic draining feature.

Ventilation and Automatic Error Diagnosis functions.

30 meters' length of the connection line external unit.

Sound level for up to 3 m with three different stages with different decibels (ex-47,52 and 59).

Temperature changes possible through room thermostat.

Total weight is 114 kg with 360L x 815W x 1200H unit dimensions.

This commercial air conditioner for computer centers has a filter that is easily accessible and cleanable.

In summertime this mobile air conditioner will be an additional cooling option to fulfill the room temperature.

Fan will operate three different stages.

This commercial air conditioner for mobile applications has water is the cooling medium of this Air Conditioner.

Operate with single-phase 230V power supply and the recommended fuse rating is 16A.
We supply these Commercial Air Conditioner for Labs, Computer center and mobile applications across all African countries covering South Africa, Kenya, Nigeria, Tanzania, Rwanda, Djibouti, Morocco, Ghana, Ethiopia, Uganda, Morocco, Tunisia, Cameroon, Mauritius, Gabon, Seychelles, etc.