Normally the challenges with cold rooms are that it requires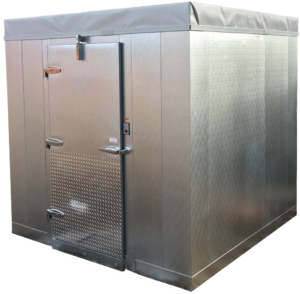 cooling units, which require a lot of electric power, space etc. Our revolutionary technology converts normal window AC or splitunit ACs into cooling units. These are cheap modular cold rooms which work with modified split AC units or Window units and hence can even work on generators and solar panels. We supply these cold rooms in all African countries including Ghana, Tanzania, Nigeria, Kenya, Djibouti, Cameroon, Angola etc. Together with our special insulated cold rooms, they can produce very low-temperature upto 0°C.
Cheap Modular cold rooms with split AC units
Normal window AC or split AC units are modified using a patented electronic circuitry made in the USA. This was the same AC units can cool down the cold room. Most of our customers are using these cool rooms between 3 to 5°C. These have been tested and approved by NewYork State Energy Research and Development Authority. Similar units are already installed by more than 40,000 customers in the USA.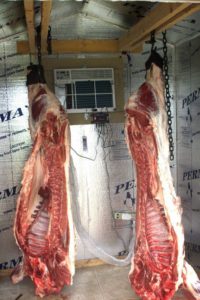 We are supplying the cold rooms in modular form. The customers can assemble them at the site with local normal technicians. You do not need specialized HVAC technicians. The cold rooms come in multiple panels. The customer has to inform the application in advance so that we can apply suitable coating accordingly. Installation of AC unit is simply similar to any other home AC.
Converting Split AC units into cooling units
We modify normal window AC units or split AC units. All of them are capable of achieving very low temperature with modification of their inner circuits. We provide two years warranty on the same.
Features of our modular cold rooms with split AC units
This cold room works on normal split AC units or window ACs. We will select the type and capacity of the AC units based on your requirements.
Energy saving of up to 60% on the capital investment of a conventional cold room.
Up to 42% saving on energy consumption compared to conventional cold rooms.
Any local technician can assemble the cold room and no specialized HVAC contractor is required.
It is maintenance free since there are no big cooling units. You need maintenance similar to your home AC unit only.
All small to medium units work on single phase electric power. Hence you do not have to worry about higher rated 3 phase electric supply.
Since it runs on small power, it can run on a small generator. Small units can even run on solar cells.
As it does not require huge space similar to normal cooling units, you can install even in small areas.
These cold rooms are ideal for applications above 2.2°C. These work best if the door opening is a maximum of 6 openings per hour.
Applications of these modular cold rooms
You can use these cold rooms similar to any other non-freezing applications. Few of the applications by our major clients are as below:
Cold rooms for farmers for storage of fruits and vegetables.
Cold rooms for pharmaceuticals for keeping medicine, vaccine etc.
Walk in cold rooms for meat and poultry.
Cold rooms for sweets and chocolates.
Floral storage for storing flowers. As there are no big fans, it is ideal for flower storage.
Cold rooms for small restaurants and hotels. You can install within your present facility with minimum investment.
Mobile cold rooms on trucks, vans etc. Otherwise, the cold room will need more AC units.
Cheap container cold rooms working on generators
Similar to the above cold rooms, we can install similar AC units inside a container. We will provide insulation on the container. We can provide either 20 ft. or 40 ft container depending on your requirements. However 20 ft. container will be more efficient since the length is smaller than 40ft. The limitation of a container is that we can install the AC unit only on one side of the container. However, if you are fixing the container permanently, we can install window ACs on the side walls as well. This will increase the capacity of the cooling.
Please contact us with the following details for modular cold rooms:
In order to offer you the right cold room, please contact us with the following details:
Size of the cold room required by you.
Temperature range required by you.
No. of door openings per hour.
The products that you intend to store inside the cold room.